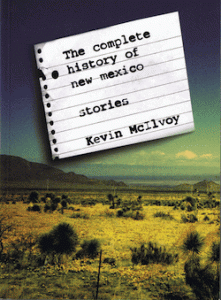 The Complete History of New Mexico
From Publishers Weekly
This bizarre, engaging collection by the author of the critically acclaimed novel Hyssop can be split into two distinct parts. Like a series of jazz riffs, a group of 12 (relatively) more conventional stories range widely but keep returning to similar themes. Recurring characters pop up regularly, as do references to blinding of one sort or another and vision problems in general. In "Smoke," Zack, a boy with a lazy eye, uses his exercises with a rubber ball to try to "see beyond"; in "Rafters," Zack visits his messed-up relatives and spends a traumatic, exhilarating day installing insulation; in "Permission," Zack's cousin Bud, a bartender at the U Dam Right, meets a bar magician who changes his life. Even odder than these stories, but more focused, are three separate, interrelated reports on the history of New Mexico, which together make up the title novella. The fictional author is one Charlemagne J. Belter, an 11-year-old in public school in the state. Charlemagne (or Chum, as he is called) isn't much of a student, but as a narrator he is beguiling and good-humored ("I got into sixth grade but almost not"), mixing dubious schoolbook history with grim, touching anecdotes about his best friend Daniel. Peering over Chum's shoulder, the reader is treated to a weird, haunting view of his world in this uneven but occasionally mesmerizing collection. Reprinted from Amazon.com site. Copyright © Reed Business Information, a division of Reed Elsevier Inc. All rights reserved.