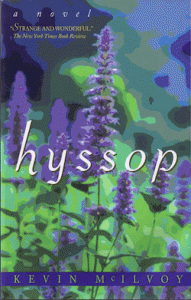 HYSSOP
From Publishers Weekly
Red Greet, the 85-year-old mason and part-time thief of McIlvoy's deeply satisfying novel, tells you right at the outset, "I've always liked a Bible kind of story that adds on and keeps on adding." Following that principle, Red saturates his main story, about his love for the two women in his life, Cecilia, his wife, who died 20 years before the book opens, and her friend, Recita, with anecdotes of the local folkloric Catholicism that takes saints and miracles for facts. Red is haunted by the fact that Cecilia's own affections were divided between him and his best friend, Francisco Velasco, a priest and, in Red's view, a saint. McIlvoy (Little Peg; The Fifth Station) has beautifully rendered the soft, Spanish-inflected rhythms of English as it is spoken on the border, and Red is the classic picaresque rascal, even though his age endows him with the quasi-biblical stature appropriate to an account of a farming community where families are rooted for generations in each other's histories. The traditions that give symbolic shape to the great passages in life, birth, marriage, death, still hold weight here. When Francisco gives Cecilia the last rites, Red, who is looking on, realizes that they are consummating their lifelong passion for one another. But Red also recognizes that, in spite of the rivalry, he and Francisco are also bound by a tie of love, which is the sacrament holding Red's memorable, intelligently romantic story together.
Reprinted from Amazon.com. Copyright 1998 Reed Business Information, Inc. --This text refers to the hardcover edition.
From Booklist
Red Greet is an endearing and energetic 87-year-old intractable petty criminal who tells his life story "like a coyote spitting up his own bones." Born and raised in Las Almas, New Mexico, in the ritual and tradition of Catholicism, Red is now newly married to a woman he has loved since before his first wife died some 25 years ago. In weaving the tales of his lifetime, this lover of life and people reveals his longing for salvation--the search for hyssop, a substance with the power to cleanse his soul. Central to the unfolding of Red's life story is his relationship of more than 70 years with Bishop Frank Velasco, his friend and confessor. With an underlying quality that is decidedly more spiritual than religious, Red's stories are a celebration of the poignant mix of wonder and wisdom known only to the elderly. There is a gentleness about this book that does not diminish its power, and serves to illuminate the often evanescent connection of faith and ritual to everyday life, love, struggle, and eventually salvation.
Reprinted from Amazon.com. As Grace Fill
--This text refers to the hardcover edition.