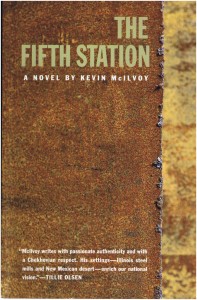 The Fifth Station
From Publishers Weekly
In this "carefully wrought" tale of three brothers who grow up in an Illinois steel town, Michael fails to help Matthew, the youngest, stay alive. And Luke, the oldest, fails to keep his promise of hope, leaving college and the family for a vagabond life in New Mexico. PW commended McIlvoy's "vivid" characterizations and "powerfully rendered" sense of place.
Reprinted from Amazon.com. Copyright 1989 Reed Business Information, Inc.
From Library Journal
McIlvoy's title refers to a station of the cross along Christ's route to Golgotha, and his story describes the collective passion of the McWelt family. With an alcoholic father and a mother who uses religion as an escape, the three McWelt sons grow up supporting one another with powerful but inarticulate love. At the steel mills, on the basketball courts, and in the neighborhood taverns of Meltenville, Illinois, these fraternal bonds are skillfully displayed. After the youngest brother dies inside a foundry smokestack, the two survivors are displaced both physically and emotionally and must forge new lives in the deserts of New Mexico. Though the scenes in Meltenville are strong and moving, those in New Mexico are slightly less effective.
Reprinted from Amazon.com. Albert E. Wilhelm, Tennessee Technological Univ., Cookeville. Copyright 1988 Reed Business Information, Inc.
--This text refers to an out of print or unavailable edition of this title.